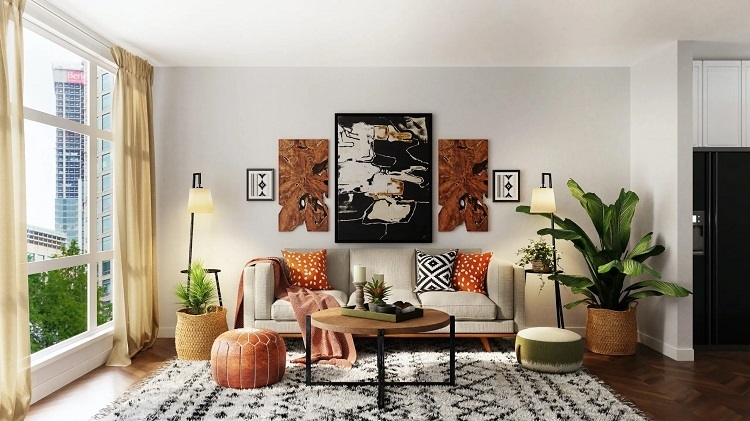 Tips to Decorate Your Living Space
The living room is one of the most important rooms in your house as it welcomes and entertains guests. So it is absolutely necessary to design it well and keep it in good order. Here are some tips on decorating your living room:
1. Use area rugs: Wall- to- wall carpet isn't as popular as it used to be. It's popularity has been exchanged with that of area rugs. They not only look great but are also more practical than broadlooms.
◦ Do not use rugs that are too small for your room.
◦ If your living room has neutral walls and furniture, using patterned rug can be a great way to add color and interest to the room. Conversely, a rug in neutral color can be great for an eclectic room. Also keep in mind that patterned rugs are likely to hide dust and stains while plain ones shall show them.
◦ If you have a colorful room and still insist to use colorful rugs, choose a color that connect and pull all the colors together.
◦ The texture is also important when choosing a rug. Wool rugs will add softness and warmth while natural materials (like jute and sisal) are a bit rough. Silk is soft and elegant but is expensive too and tough to clean.
◦ You may consider layering area rugs on top of each other to define your space and adding interest. It's particularly a great trick for seasonal decorating. In colder month, layering rugs can produce warmth and coziness while deleting them in the summers can create a lighter look.
2. Add color:
◦ You will see that you can add a real punch of color by painting just one wall of your living room. This will help you change the focal point of the room without going through any major decorating project. If you have a niche, use a bold and contrasting color from the floral fabric or a more subtle tone darker than the rest of the walls.
◦ Add green and flowering plants to add color, fragrance and good feeling to your living room. If your working schedule won't allow you to take much care of the plants, consider using artificial ones that are available in market today. You will find great looking plants, flowers, foliage that only needs to be dusted.
◦ Place a large mirror on the dull boring wall to reflect color and brighten up the room. Choose an interesting frame for the mirror or decorate it with braid or cording. If you have an old frame, you may paint it with a bright color.
◦ Place pillows strategically on your furniture. These simple additions will add comfort and a splash of color to the room.
◦ Add works of art. Add a colorful piece of art to add a brilliant decorative touch to the room. You may frame simple photos in bright frames or colorful mats. Canvas paintings are also your ideal option. You can click here for buying if you reside there.
Authors Bio: Rickey is a renowned author, who has written a vast number of articles related to e-books, home decoration ideas and many more. Some of his great contributions include benefits of reading non fiction books, how to save dollars on during the time of your home decoration and many others.